Page Updated June 21, 2023
The Bird Bar is where you want to be! Our goal is to deliver the coldest beer in town, tasty mixed cocktails, superb customer service with a friendly smile to our amazing community members and visitors both near and far.
When you first walk-in, you will be amazed at the amount of space we have... our friendly staff will welcome you and make you feel as if they've known you for years. Once you decide on what you'd like to eat and/or drink, feel free to engage in TAP Trivia, Darts, Karaoke or simply enjoy the company of those around you while watching the game one of our 11 TVs and when a Seattle team plays, we have our 100 inch big screen projector going to see all the action up close! 
The Bird Bar's hours are currently...
Sunday thru Thursday Noon - Midnight
Friday & Saturday Noon - 2am
Darts
Dart Boards are available to everyone for open play. If you don't bring your own darts, we do have darts and supplies for sale. Please note that we do have a few leagues running and they have priority on boards over any open play. Tournaments are run every Wednesday night with 6:30pm sign-ups/7:30pm start and every Friday & Saturday night 8pm sign-ups/9pm start. Open to anyone with a valid Phoenix card.  Any questions regarding darts of any kind can be directed to our dart coordinator, Vanessa Miles at (253) 324-7328 preferably by text.
Karaoke
Karaoke takes place Thursdays 7:00pm - 11:30pm  and Fridays & Saturdays 9pm-1:30am with hosts/hostesses from Lonman Productions. Come on in and sing your heart away!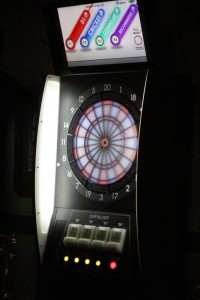 For more information, feel free to call us at (253) 536-9261.