Welcome the Thunderbird Cigar Lounge (TCL) & Retail Store (TCR)
Come in to our cigar lounge and enjoy a fine cigar and spirit. You can watch TV on our main floor, or enjoy some relaxation in our quiet, private room. This room is also available to reserve for meetings or parties.
If you stop by our retail store, you will see that we have one of the largest selections of cigars in the Northwest. Our friendly tobacconists will be happy to assist you in satisfying all of your cigar needs!
Want to learn about cigars? Uncle Bob can help.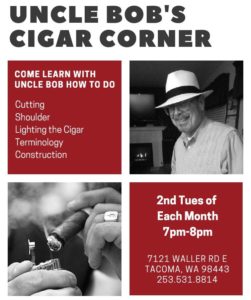 Aficionado Cigar Lounge Event Calendar
The week's events
Mon

Monday

Tue

Tuesday

Wed

Wednesday

Thu

Thursday

Fri

Friday

Sat

Saturday

Sun

Sunday

November 16, 2020

November 17, 2020

November 18, 2020

November 19, 2020

November 20, 2020

November 21, 2020

November 22, 2020